Sales & Marketing
Contribution to community healthcare and the development of new drugs through the collection and provision of clinical information
Medical Representatives: Information Bridges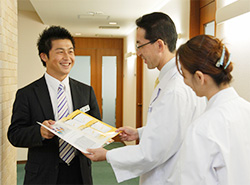 The timely provision of required, reliable, accurate and new information
Medical representatives play an important role in connecting Sanwa Kagaku Kenkyusho with medical institutions. It is vital that the pharmaceutical information we deliver is not only reliable and accurate, but also new and timely. It needs to be in your hands when you need it. We currently engage in activities with a special focus on diabetes treatment.
Contribution to Community Healthcare
Contribution to community healthcare through seminars on diabetes mellitus, and through cooperation with local hospitals and clinics
To contribute to community healthcare, the medical representatives of Sanwa Kagaku Kenkyusho are involved in various local activities, including the coordination of academic conferences and seminars so that we can disseminate beneficial medical information to as many people as possible. Study meetings on diabetes mellitus are held all around Japan. They are attended by many doctors and provide a significant contribution to local healthcare.
Our objective through these study meetings is to promote so-called local hospital-clinic cooperation. Sanwa Kagaku Kenkyusho plays a key role in connecting diabetes specialist practitioners at large medical institutions and physicians at various local clinics so that the information is shared among all parties of interest.
Information Feedback Functions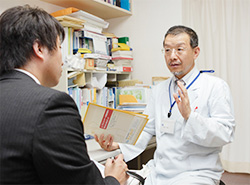 Sharing valuable information from the frontline of the clinical environment to create new value
We retain the clinical information that our medical representatives collect from medical institutions and local clinics as a valuable asset. We store the information in our specially designed databank, called TIS, so that all units in our organization can share it. The opinions of doctors, pharmacists and other professionals working at the frontline of the clinical environment, as well as the opinions of patients are very valuable in creating new drugs and developing generic drugs of high added value.
Improving Skills of Medical Representatives
A collective team effort to improve information management skills
Sanwa Kagaku Kenkyusho implements an area-team tactic as part of its sales and marketing strategy. Under this strategy, a team of dedicated members manages each relevant area.
The team manager has a very important function in this scheme in creating the strategic plan for how we can contribute to the regional clinical environment. The team manager supervises and cultivates team members, and steers the team in the right direction so that they engage in activities that are flexible and relevant to the community. In addition, the Medical Information team has been formed to provide training in helping medical representatives further their scientific and medical knowledge, thereby adding more value to the products we offer.